Native Columbine can grow in full sun as well as almost full shade -whenever it doggone well pleases. https://plantfinder.nativeplanttrust.org/plant/Aquilegia-canadensis This can be frustrating, so I've learned to let go of my expectations. Now I spread seeds from the plants I have and let the plants decide where they will thrive.
🌿🦋🌿🌳🌿
Yes, there are all kinds of crazy hybridized colors of Columbine at the big box stores. But I prefer the straight species of Columbine, Aquilegia canadensis, with yellow and red blooms. I find them under my back door in between the pavers as well as in my patio garden. They survive and thrive spring after spring. The straight species is also a host plant to the Columbine Duskywing Moth (Erynnis lucilius). And I like for the baby birds raised in this 'yarden' to be fed healthy, caterpillars. Every year I'm happy to provide more of the 6-9,000 caterpillar 'hotdogs', full of the perfect ratio of fats and protein, that one parent bird needs to find in an approx. 2-week period of raising one nest of hatchlings.
I like the feeling of restoring more of the Northeastern Highlands ecosystem plants here in the Healthy Home Habitats Demonstration Gardens. Every day we get closer and closer to exceeding 70% minimum native plant component necessary to recreate a healthy, EPA Ecoregion 5, Northeastern Highlands system., or an 'Ark' as Mary Reynolds calls these special places so many of us now are creating and caring for. https://en.wikipedia.org/wiki/Northeastern_Highlands_(ecoregion)
And yes, I'm sitting in my wheelbarrow after a long, lovely day, just before beginning to grind a skim coat off of my foundation bricks that need to be repointed before I can rebuild the stone wall and plant new native shrubs. Deep sigh.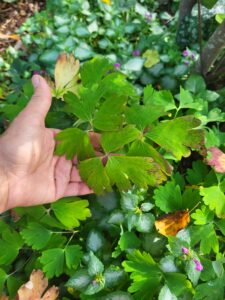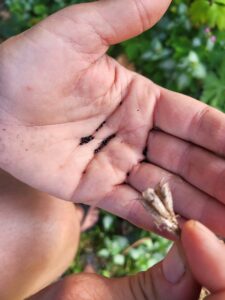 #youryardmatters #homegrownnationalpark #lesslawnmorelife #nativeplantsrock #Choice2CreateYourAmericanYarden #environmentalactivismathome #climatechangeactionsnow #recreatehealthyecosystems #HealthyHomeHabitat