🌱 Former client (who now has a fabulous, native, backyard garden) sent an email last week: "We lost two Arborvitae in the front yard along the driveway. How do I fix this?"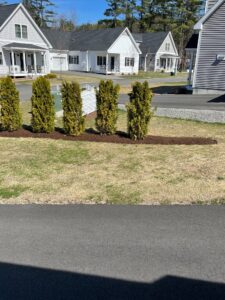 CONDITIONS: Full sun, sharply-drained soil with deer browsing pressure.
Garden center would suggest replacing the two arborvitae in a line. 😪🤨😐🙄😵‍💫☹️
But this client now knows that native plant choices in her landscape can have multiple benefits!
HHH, alternatively, suggests two options of adding perennial and canopy layers that are not only native plants but increase the area's ecological benefits AND seasonal interest.
RECOMMENDATION: Bump out this end of the mulched area to add three, crazy-sturdy perennials (one option: Coreopsis lancelolata – summer bloom) and an overstory canopy or ornamental tree planted young, as a protected sapling.
FIRST CHOICE: Red or Black Oak, Quercus coccinea/velutina a Pollinator Powerhouse plant for supporting over 500 butterfly and moth species, adding to the value of the home, creating shade in a area with none, and drought, and crazy-fabulous fall color.
SECOND CHOICE: Same three perennials with, instead, a Cockspur Hawthorn, Crataegus crusgalli, smaller and less shade but has red berries for the birds with lovely spring blooms of pollen and nectar for our beneficial pollinators as well as a mahogany fall leaf color.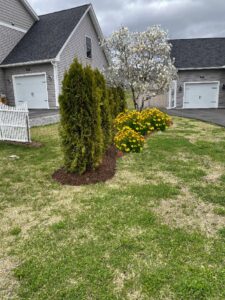 Voila! More beauty AND more ecological benefit.
✨️🐦✨️🐛✨️🐞✨️🦉✨️🌼✨️🐝✨️🌻✨️
Watch for more of HHH's suggested steps: "Shifting to Diverse & Resilient Landscapes"
#urbangardening #happygardening #happygardener #urbangarden #sustainablebackyard #sustainablebackyardgardener #thehappygardeninglife #gardening #backyardgardening #gardensnotlawns #gardeningislife #healthyhomehabitats #womenwhogarden #monadnocksustainableyards #gardentherapy #gardeningpeace #backyardgardens #pollinatorhabitat #gardeningadvice #leavetheleaves #OaksRule #Keystonespecies #powerhouseplants #landscapedesign