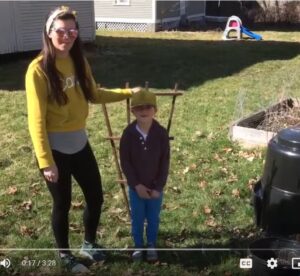 Mary and Carter live in an apartment and they want to grow peapods too! So they are joining Easy-Peasy using a bucket. STEP THREE YouTube: https://youtu.be/okvTGZDEWs8
SUPPLIES:
5-gallon Bucket (Paint or from a hardware store)
Screwdriver with ⅜" drill bit
Potting Soil (can be for new plantings)
Well-Aged Compost (dark/crumbly, smells like earth)
Some type of Hand Digging Tool
Soaked Peapod Seeds
Water from a Hose or Watering Can
Large Marker or Finger
3' Wooden or Metal Lattice
PROCESS:
Clean your bucket and turn it upside down
Drill no less than five holes in the bottom so that excess water can drain away.
Fill ¾ full with ½ potting soil and ½ well-rotted compost
Water this soil and stick the lattice solidly into the middle of the pot.
Let pot soak overnight.
Create 1″ deep holes with the end of a large marker ,approximately 1-2″ apart on either side of and close to the base of the lattice.
Put two seeds into each hole and cover over the holes.
Water gently but thoroughly.
Check to make sure that the seeds are still covered by the soil.
BACKGROUND
Feeling that Spring itch? Looking for something fun to do this summer with your children outside in your own yard? Watch for STEP 4 next week. We're growing Sugar Snap Pea Pod vines right now in several fun locations for you to explore and try right at your home too!
ENTIRE SERIES: https://healthyhomehabitats.com/video-tutorials/
#beginnergardeners #healthyhomehabitats #urbangardening #urbangardenideas #happygardening #happygardeners #happygardener #urbangarden #sustainablebackyard #sustainablebackyardgardener #thehappygardeninglife #kidsgardens #createabetterworldathome #gardening #backyardgardening #gardensnotlawns #gardeningislife #gardenlove #regenerativegardening #womenwhogarden #monadnocksustainableyards #gardentherapy #viningvegetables #gardeningpeace #familyprojects #familygardening #backyardgardens #keenenh #foodnotlawns #thehappygardeninglife #gardeningadvice #gardeningtips #containergardening #growingjoy #reducewaste #lowimpactmovement #sustainablelifestyle #sustainablechoices #sustainability