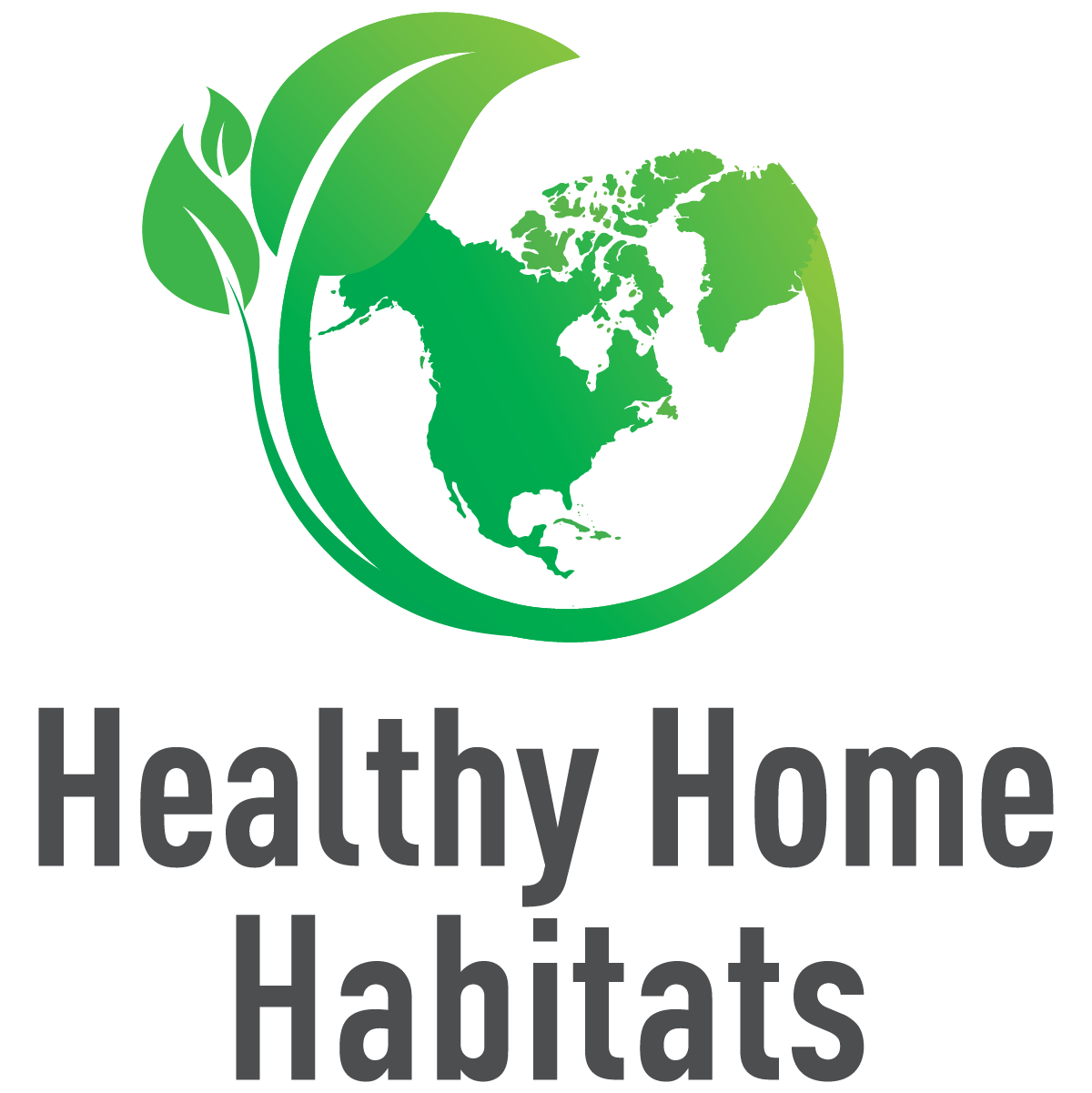 Jie
"With so many plant varieties, it is difficult to know where to begin. Michele designed beautiful garden landscapes for our home that fit our busy lifestyle and seasonal preferences. Not only are the plants gorgeous, they are also native to the area and beneficial to nature as well! The flower blossoms attract a variety of butterflies and bees, which we love to see. Thank you Michele for your wonderful ideas!!"
Molly
"Michele is knowledgeable, easy to work with, has many great ideas, is thorough, and did a great job for me. I thought the quality (of her work) was excellent. I (now) have great ideas for landscaping. She's created a service that wasn't available before that I needed, and will continue to need. For that I am grateful! "
Julia
"This (landscape master plan) is exactly what we were looking for! Thank you so much. It is wonderful (and) I can tell you put a lot of thought into our "wants". I especially love the blueberry shrub idea and the raised raspberry beds."
Hilary
"I called Michele because her gardens were so inspiring. I wanted suggestions of plant material, especially native species, and I wanted help designing beds. Michelle is smart, communicates very clearly, and loves what she does. It is great working with her.
Marcia
"Michele consulted with me about yard and garden projects; she shuffled all the pieces to create
cohesion in creative and affordable ways and demonstrated strong familiarity with our NH native species and local nurseries that provide them. She was efficient, professional, and thorough."
Nancy
"Michele Chalice did a fabulous job of helping me re-plan my garden beds, using the many
perennials I already have in a new, creative flow!"
Four fun, effective and efficient ways to collectively help to heal our world from home!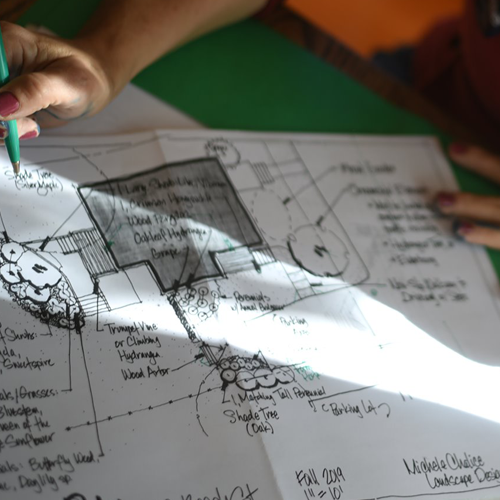 REGENERATIVE & ENVIRONMENTAL GARDEN DESIGN
Improve an existing tiny or large garden — or create a new one — with diverse trees, shrubs, flowering and food plants that are native and don't require chemicals to thrive. Your garden can be a space where you can care for plants that you love to see, to smell and to watch through the seasons. You can also grow wonderful foods that support the health of your community's ecosystem.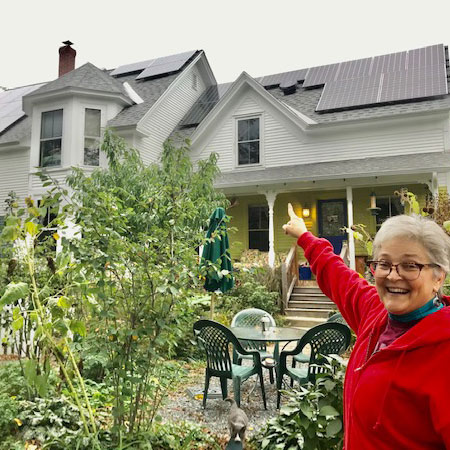 HOME RESOURCE EFFICIENCY
Choosing HHH actions at your home can provide over 80% of your power and HVAC needs. Our recommendations reduce your use of water and paper resources. We'll help you improve your home's energy efficiency with house and garden projects such as passive and photovoltaic solar tools, indoor storm windows, interior and exterior space-saving laundry-hanging racks, food composting, rain water harvesting, bathroom bidets and efficient kitchen systems for managing your daily life with more ease and less global impact.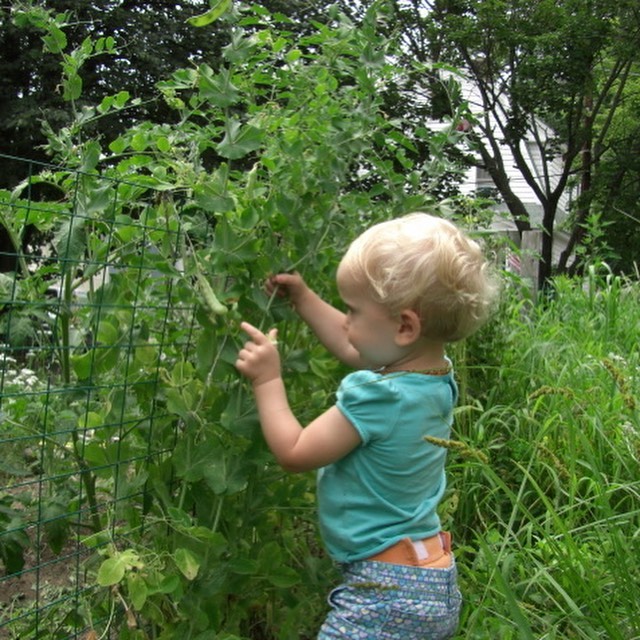 FAMILY GARDENING STRATEGIES
The "Easy-Peasy Vining Vegetables" Grow seeds into fabulous tall vines that flower and create yummy pea pods, beans, cucumbers or small pumpkins right at home! This project is a beginner's and/or a family garden dream project. All you need is fertile soil near a fence or in a pot, 6-8 hours of sunshine, a vertical element such as a fence, trellis or suspended strings, and water from a bucket or hose. Free step-by-step videos will walk you through the process to harvest and enjoy your own fresh produce.
"Community Shade" Plant the future with a 2-year-old native Red Oak that increases the value of your home and community. We provide two heavy-duty yellow tomato cages to protect the tiny tree from lawnmowers/whippers and an HHH tag that identifies the tree and its multiple ecological and aesthetic benefits.
"Best Garden Type for Our Family" Discover whether vegetable window boxes, fruiting trees, raised beds, a 'square foot' garden, a 'lasagna' garden or even simply patio containers will provide the greatest return and maximum enjoyment for your family's gardening efforts.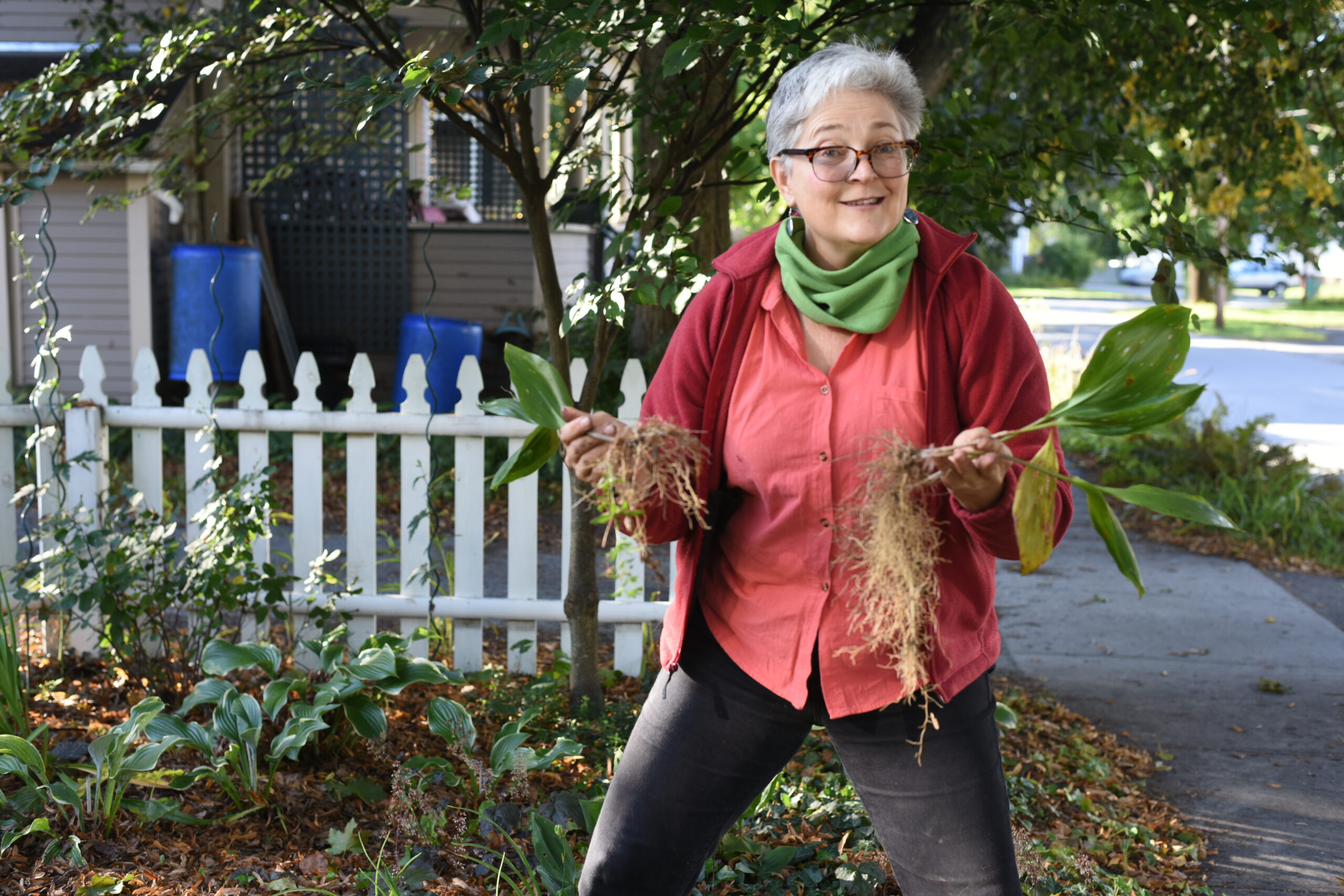 CO-GARDENING
How successful was your garden last year? Do you have questions to make this year's gardens even better? More productive? More satisfying? More fun?  Or maybe you have great garden ideas, but also some questions or need help creating them? If you are in the Monadnock region, I'll show up with my tools to work together with you at your home with your tools too, on an agreed-upon project for an agreed-upon period of time. This lets you ask questions on the spot!  This also allows for an abundance of shared ideas — leaving you more confident in making your own future gardening decisions, reaping greater benefits and having more fun!
About Healthy Home Habitats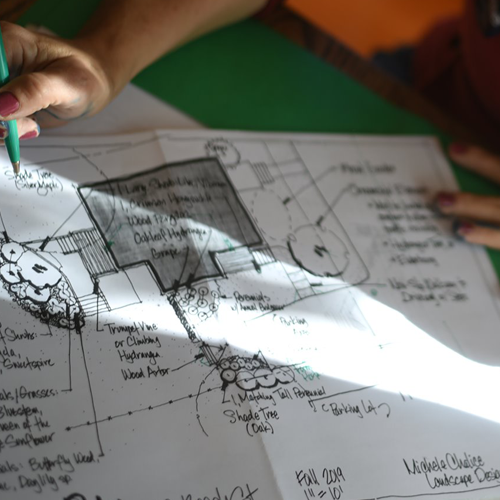 HELPING TO HEAL THE PLANET AT HOME!
Healthy Home Habitats (HHH) believes that every American can have a more vibrantly healthy life while helping to heal the world right from their own home with lifestyle changes, efficient homes and diverse, productive, home landscapes.
If our daily decisions helped to damage the world, why not choose differently now? HHH offers designs and guidance for more abundantly healthy lives that can also conserve resources, enhance biodiversity, increase the efficiency of the resources you do use as well as the quality of the the time you spend in your own home's nature with your family.
I offer regenerative landscape designs for spaces that can contain raised, vegetable planters, and/or pollinator patches for healthier gardens, and beautiful native plants you'll love to care for requiring less water, less mowing of grass, no chemical fertilizers, herbicides and pesticides, perennials that return every year, supporting your family with food and your surrounding ecosystems with a variety of native and non-native flowers, shrubs, trees, vines and bulbs throughout the seasons.
I offer projects to enhance our community's health. "Easy-Peasy Vining Vegetables", for example, is a beginner's and/or family, garden project that gives anyone with soil along a fence (or in a pot), sunshine (6-8 hours of full sun), a vertical element (such as a fence, trellis or suspended strings), and water (from a hose or a bucket), the simple steps to grow vegetables right at home! We start the growing season with organic, Sugar Snap Pea Pods, then as the growing season progresses, organic, Scarlet Runner Beans, organic Corinto Cucumbers and lastly, organic Cinnamon Girl Pumpkins. A person or family can grow just one or all four! Each of these vegetables are direct sown and produce abundant, fun crops with a weekly attention. Every week HHH posts free, "Step-By-Step", YouTube videos showing our neighborhood's children taking each step to grow the seeds into fabulous, tall, vines that flower and create beautiful, yummy, pea pods, cucumbers, string beans or pumpkins for fun, healthy eating right at home.
And lastly I offer a Healthy Home Challenge. This starts with an interview and results in a list of suggested 3 month, 9 months and 2-year changes that shift a client's existing home/property to one of more abundance, more nature, more efficiency, more beauty, less chemicals, more healing and/or more health. A client may be able to achieve a HHH Explorer status quite quickly and in time they can achieve the status of HHH Warrior and potentially achieve the pinnacle as a HHH Champion.
Growing Sugar Snap Pea Pods the Easy-Peasy Way!
Regenerative & Environmental Garden Design
HILLSIDE POLLINATOR PATCH – Previous plantings were spotty and did not thrive on this difficult, very steep and sharply drained location.  Appropriate native and non-native plants suited to the soil, exposure and moisture conditions will now take advantage of the various views, both roadside as well as porch-side of the prominent slope.  Differing "flows" of seasonal color and texture will also now support the local wildlife the clients enjoy watching as well as their aesthetic preferences.
RESIDENTIAL GARDENS MASTER PLAN – The family purchased an early 1900's home with an overgrown, outdated landscape.  They are interested in growing their own fruits and vegetables in a sustainable way that makes the best use of time in their young family's busy lives.  A series of raised beds create distinct locations to concentrate necessary, rich, fertile soils needed to produce nutritional produce, very different from the sandy, sharp-draining soil of the property. Native shrubs and perennial flowers to this sandy soil will provide color, seasonal interest and ecological benefits to the variety of other species that live in our community such as songbirds and pollinators. A mix of grass-turf alternatives will provide both green color and seasonal blooms in the sandy soil with minimal maintenance for a "lawn" that leaves time for family fun!
EMPTY LAWN ENHANCEMENTS – This very busy, local health professional finally had a moment to look outside her home and decide that the former owner's landscaping was not suiting her interests in wildlife viewing as well as favorite plants, colors and textures that she will now be able to enjoy at her own home.